OBTAIN 24/7
Features
Device Assets
OBTAIN Assets
Rack Mounted Panel
OBTAIN Brochures

The OBTAIN 24/7 software tool enables all the players in the planning process: hardware planners, system programmers, facilities specialists, electricians, vendors and operations personnel to participate in a planning process at their convenience. Change cycles have shortened. There is less time for planning meetings. Yet, the change process is becoming more complex. Fabric switches, trunk cables and patch panels are replacing point-to-point connections. SANs are replacing dedicated storage. Mainframe and Open Systems are sharing storage devices.
OBTAIN Classic provides the capability to plan multiple scenarios for each hardware change and to keep all planning data in sync with the 'production' data and between competing plans. Common resources such as patch panel slots or switching capability can be reserved to prevent conflicting plans.

Best of all, planners can view the changes and progress in the planning cycle without wasting the time used by other planning methods to keep everyone informed and actively engaged in the process.
Features
Asset and Connectivity database able to record data for:
All devices, including Mainframe, Open System and Network devices.
Internal device features, control units, logical partitioning.
All device ports, CHPIDs, interface.
Warranty, install/deinstall dates, contract and leasing information.
All fiber cables including ESCON, FICON, Fibre Channel, FDDI, etc.
All copper cables including Bus & Tag, SCSI, CAT5, Coax, etc.
All physical connectivity between devices and internal connectivity through switching equipment.
All power equipment and connectivity.
Device racks.
Copper and fiber patch panels and cabinets.
SAN Fabric definition including aliases, zone sets and zone members.
All asset and connectivity data defined once with multiple physical/logical displays of the data from different physical/logical viewpoints.
Able to link an asset to external documents such as Word documents, CAD drawings, spreadsheets, etc
Imports/Exports:
Device import
Cable import
HCD import
VOLSER import
MS Access export
Spreadsheet export
Reports and Diagrams:
Dynamically generate connectivity diagrams using data from the Asset and   Connectivity database.
Create connectivity diagrams from multiple viewpoints, such as from a server,    subsystem, switch, patch panel, or individual cable.
Customizable reports can be created for all OBTAIN assets: devices, cables,    patch panels, power equipment.
Create a Device Report with an include/exclude based on connectivity,   location, warranty/lease/install dates, device type, power status or specifically   selected devices. For example, this report could be tailored to filter and report   on all of the devices located on the 2nd floor, which are connected to one or   more specified host images/servers/switches and which come off lease by a    certain date.
Report tailoring for all diagrams and reports are saved on a per-user basis.
Output reports and diagrams to a PC monitor, printer, plotter or file (.bmp, .dxf   or .htm).
Graphical Interface:
Customizable GUI display of all assets and connectivity.
Multiple search options including search by serial number, asset ID, location,   device type, internal components, MVS address, IP address, FC alias, WWPN,   connectivity to other devices, SSID, etc.
Able to view a device dynamically from several perspectives, such as  connectivity, device rack location and floor tile position, with all viewpoints   automatically updated when the asset and connectivity data is changed.
Multi-Site, Multi-User:
Concurrent read/write IP access by multiple users in multiple locations.
Logon security.
Definable access restrictions for each user.
Device spreadsheet generation for data from multiple data centers.
Transaction-based update with rollback features.
Workorder-based update that allows what-if planning without impact on the    'production' data.
Workorder-based update that:

Allows multiple plans to be applied to the production data in any order.
Prevents double allocation of resources between two separate plans.
Updates a plan automatically with all changes made to the 'production' data during the life of the plan
Device Assets
The Device Assets contain objects for each device found within a site. A device consists internally of one or more components or logical devices. The idea behind this design is to enable the definition of any device supported by S370/S390, network or open system architectures by allowing the inclusion of any combination of component types. OBTAIN offers a full range of components to accurately depict your asset inventory.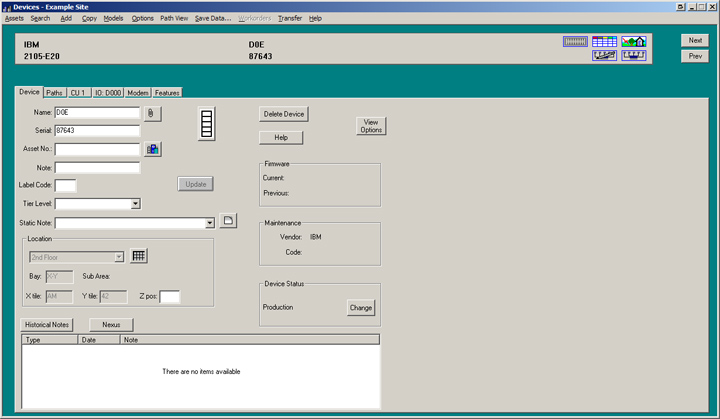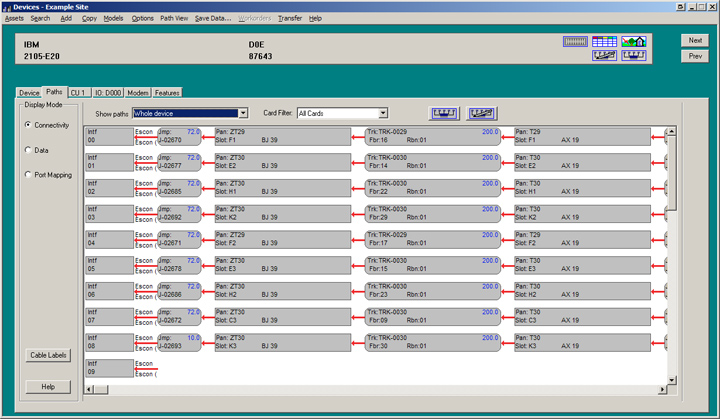 The Device Assets Notebook is used to hold a page of data for the whole device and a page for each component within the device. The first page (Left) is always for the whole device and contains data fields that are common to all devices such as device name, serial number, asset tag and location.

Connectivity for each device is shown on a separate page (Right) in the Device Notebook.

Connectivity in OBTAIN is easily created: simply drag and drop the required assets. While connections are one-to-one, you will also see each consecutive item that the object has been joined to, thus creating a complete path.


A diagram of the device's connectivity can easily be generated. All diagrams and reports are created dynamically, using the most current data. In the diagram pictured, the control unit is displayed at the very bottom of the diagram. Connectivity is shown for each interface, passing up through jumpers, panels and trunks into directors. The pathing continues out of the director's allowed ports, through more fiber backbone to processors.
Cable Assets
OBTAIN groups its cable assets into 4 basic categories:
Fiber Jumpers (Escon, Ficon, Gb, FDDI, Fibre Channel)
Bus & Tag
Miscellaneous (UTP, SCSI, STP, TR, Coax, Logical, Other)
Fiber Trunks
OBTAIN offers great flexibility when it comes to maintaining its Cable Assets. Cables can be added individually or in sequential groups. They can be added by hand or imported into OBTAIN by flat file. Their data can be edited after they have been created and even after they have been connected. They can be updated, renamed, renumbered, and reserved for future use. They can even be replaced on the data path by another cable.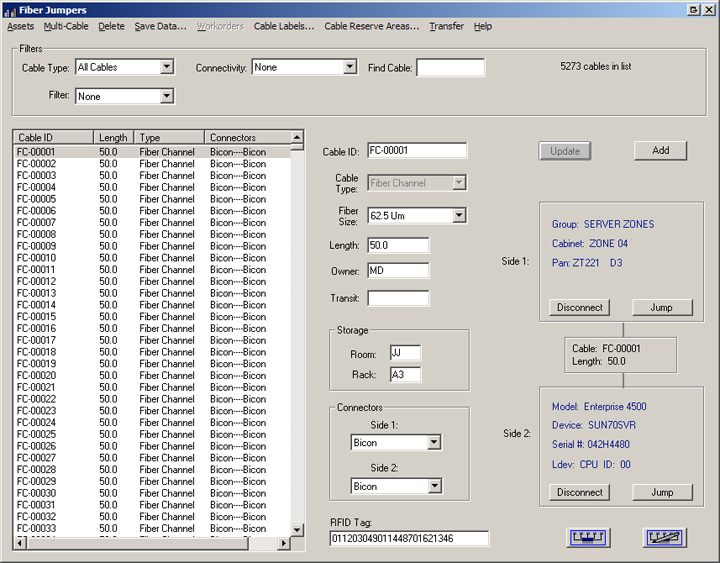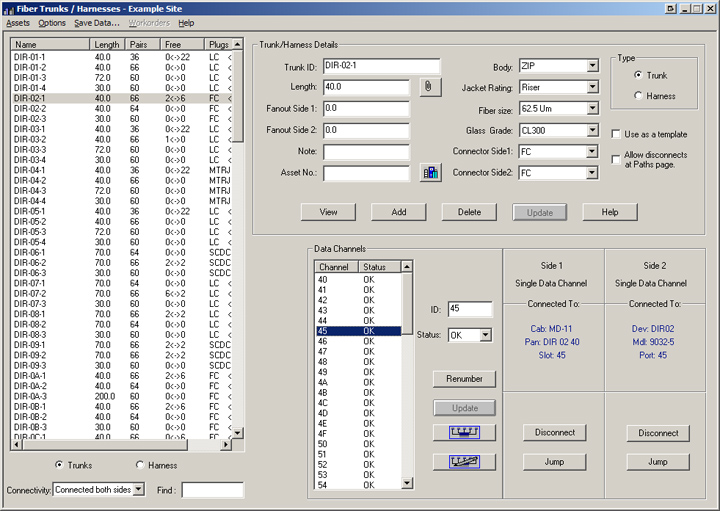 OBTAIN also offers a Cable Label generator, allowing the creation of labels employing not just the details of the cable data, but also physical or logical connectivity data.
Fabric Assets
Fabric Assets is used to maintain data about the switched fabrics at your site. Switched fabrics are used for cross-connecting servers, storage and other devices with many high speed data paths. Although an enterprise will most likely only have a single fabric, OBTAIN supports multiple fabrics. Fabric Switches are assigned to a fabric and zones, which allow a fabric to be partitioned into multiple, separate entities, are set up to provide manageability and added security. Software zoning is defined in zone sets, which are made up of one or more zones. Only one zone set can be active in a fabric at a time.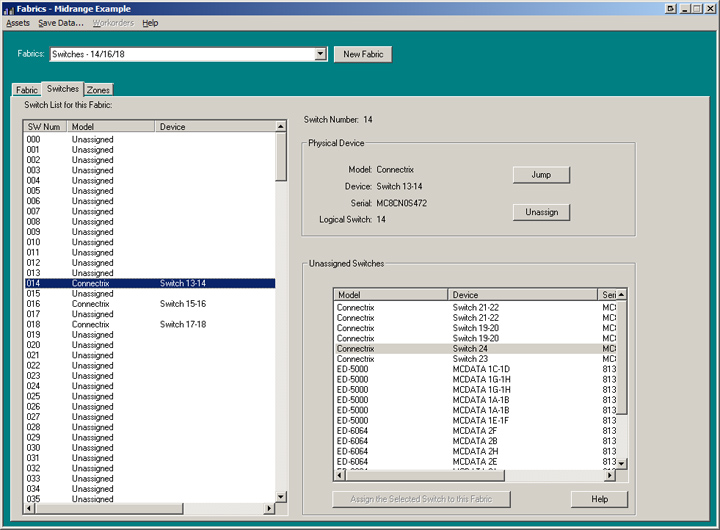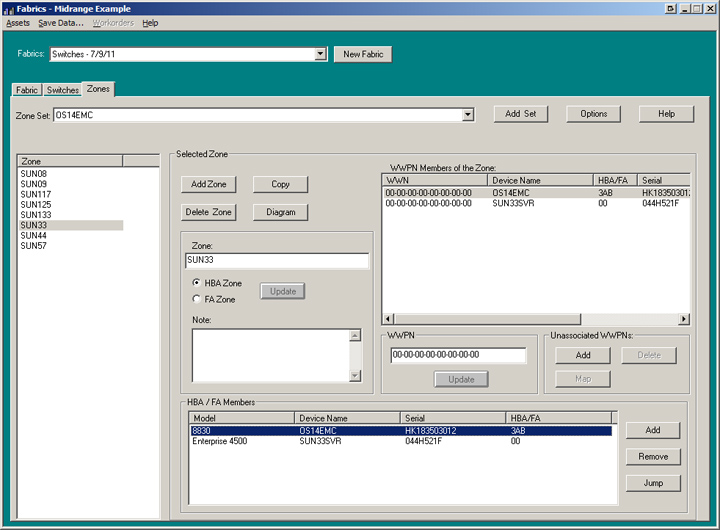 Software Assets
Software Assets keeps an inventory of the main software products installed for execution by the hosts and servers defined in a site. It is not intended as a software management tool for distributing PC software, or keeping track of software contracts. Instead, it can be used to leverage the investment made in maintaining a complete and accurate database of connectivity by easily answering questions such as, "If I were to move software 'X' from LPAR A to LPAR B, do I have all the prerequisite software installed on LPAR B? Also, do I have access to all of the volsers required by software 'X' from LPAR B, or will new connectivity be required?

Rack Mounted Panel
Rack mounted patch panels may contain a mixture of slot types within a single panel or cabinet. The slot types can include non-fiber slots such as UTP or Coax, along with the traditional fiber slots found in fiber panels.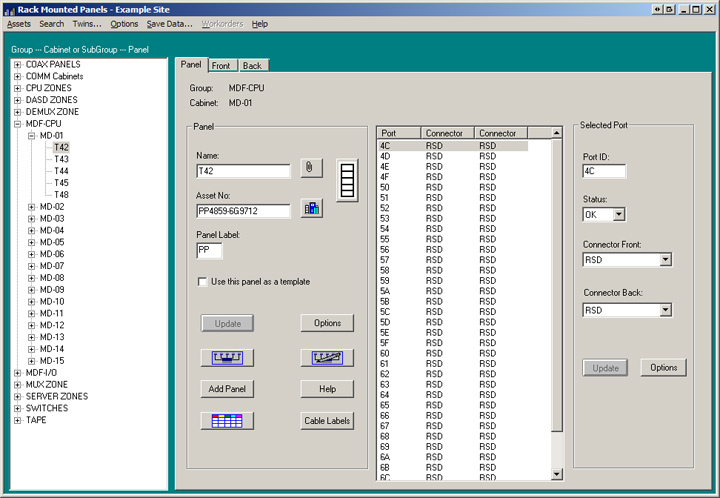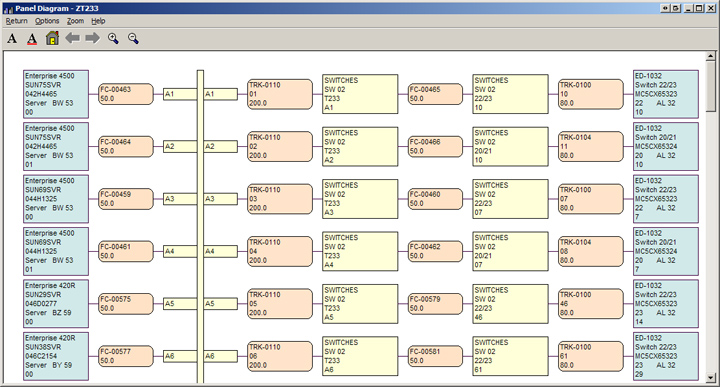 A diagram of the panel's connectivity can easily be generated. All diagrams and reports are created dynamically, using the most current data. The diagram below is shown in it's viewer window, displaying the pathing for the front of the panel on the left and the back of the panel on the right. The front of the panel is jumpered to a processor, the back of the panel passes through the fiber backbone to various devices.
OBTAIN Brochures