Our goal: improve your data center planning and documentation.
We work closely with many customers worldwide. Improvement boils down to 3 interrelated items.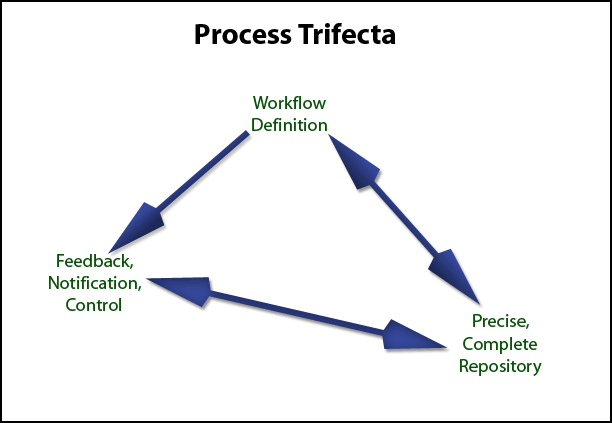 The OBTAIN software has played a part in your planning and documentation Repository. There are probably many other data sources used at your site during the MAC process. Look for increased synchronization between the OBTAIN database and other tools to help build a more effective, integrated Repository for your vital configuration and planning data.
To facilitate this, we have improved the scope of OBTAIN so you can zoom from macro to micro views quickly.
Location View Site Plan
Zoomed in Location View Drawing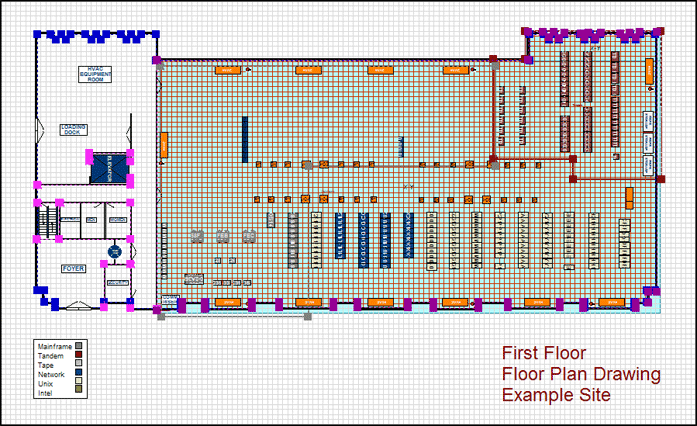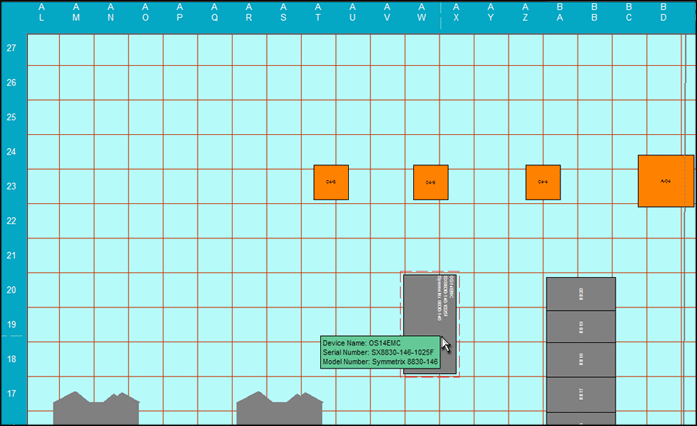 … and jump to other, related views just as quickly
Rack Elevation View
Device Level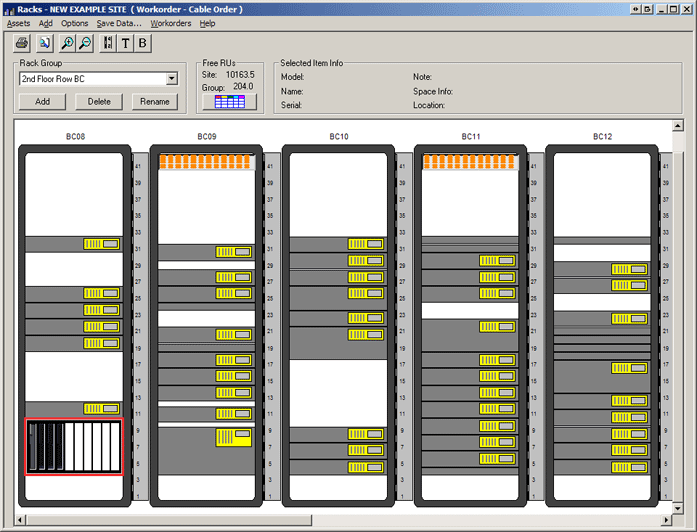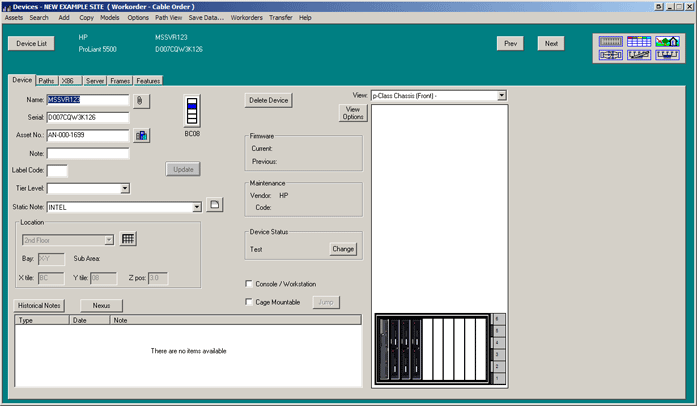 … right down to the card or blade level
Card Cage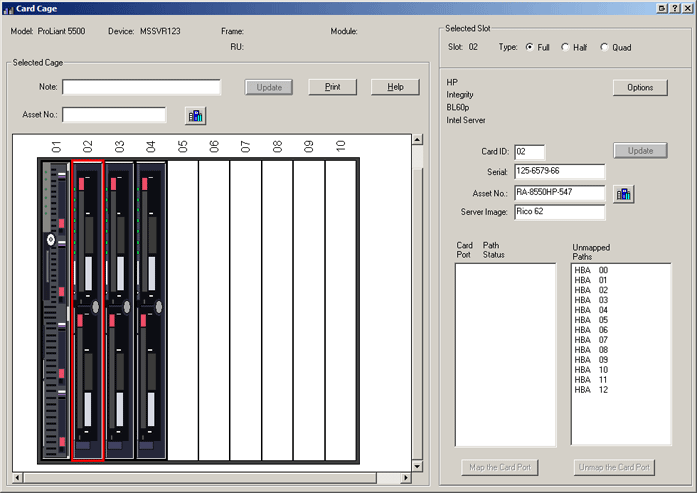 Our intention has always been to provide you with a database you can interact with intuitively. Actions performed in your data center, such as the insertion of a new card, blade or board into a device have an impact. OBTAIN increasingly models the same impacts. Insert an OBTAIN server blade into a blade chassis and the database also creates a mapped server image that can be searched on. Insert an I/O card and you get new ports or HBAs.
Now we are focused on extending this to include features which can improve other aspects of your planning and documentation workflow. Here are some examples to look for.
Capacity Planning
As you go about your normal work order planning and implementation, OBTAIN collects and propagates Power, Cooling and Space Utility data across zones, locations, sites and even the whole enterprise. You can view the impact of this capacity trend from any level, enterprise down to a single zone in a single floor location.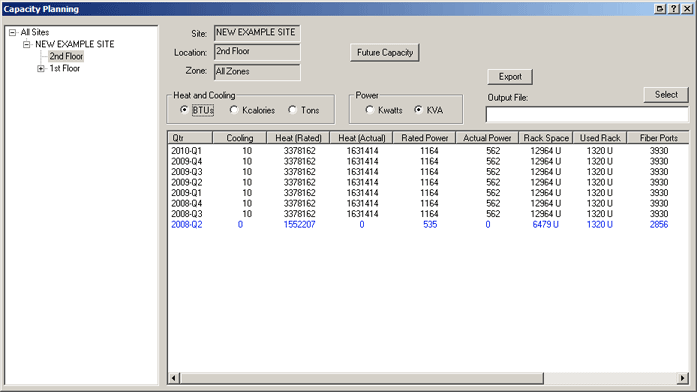 You can also set future capacity projection values for each location and have the impact of each value propagate up to the enterprise level. Historical capacity values and projections can be exported for use in common display and graphing software.
Cable Activity and Ordering
The cost of cables has dropped very significantly during the past 5 years. Unfortunately, all the other costs associated with making cabling changes have risen to the point that the fiber cable itself may only constitute 25% of the total cost. Copper cables are even less expensive.
OBTAIN has always been a great tool to design the physical implementation of "logical" connectivity. Engineering specifies how many connections between which devices and other departments make it happen. OBTAIN is used to help make it happen and now the actions you perform as part of that planning in a work order are captured and compiled into a Cable Activity List.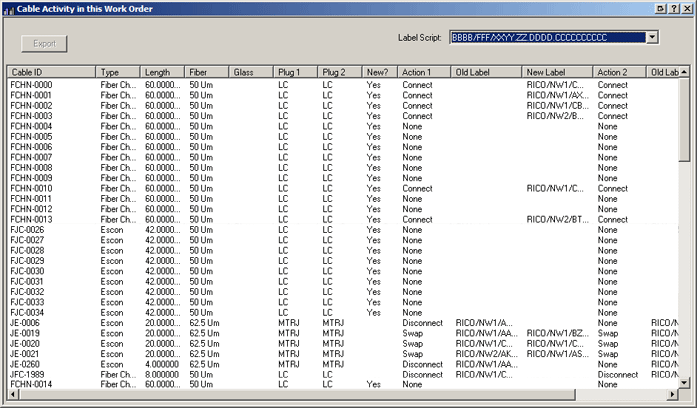 This is a detailed action list that can be passed to folks not directly involved in the cable path planning with assurance they will know what to do completely and precisely. This is especially true if the Cable Activity list is used in conjunction with the Cable Label capabilities of OBTAIN.
Key customers have worked with us to design a very precise and concise label format. Combined with a new, simple scripting feature, OBTAIN can generate labels for each cable in the Cable Activity list. Each label shows exactly where the other end of the cable is (will be).
Removing some of the costs and tedium from the cable installation process is only the start of what we are developing. Work Orders can also be flagged to collect all the data necessary to generate a fiber or power cable order to your vendor or an RFQ to several vendors.
We are working on features to streamline the cable ordering, shipping, receiving and installation process and will be pleased to work with your internal team and preferred suppliers to cut costs from your cable process.
Workflow Definition
Historically, OBTAIN has played a role as a database in your planning and documentation process. We hope that our new features will elevate that role but our key customers have made us aware of the need to more fully integrate the Repository aspects of OBTAIN with their work flow definition and execution. A Repository on its own has little value. It is only one leg of the Process Trifecta.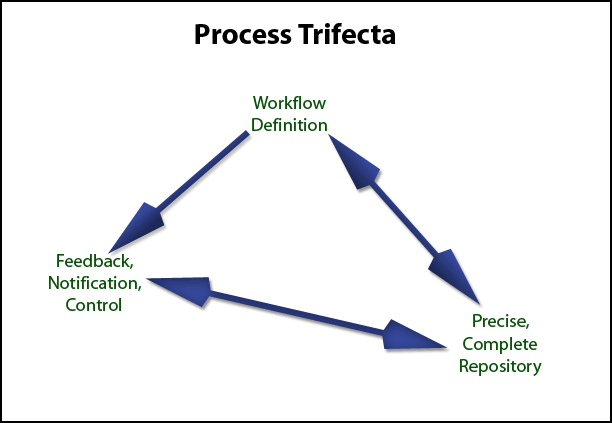 We are working on a new product called OBTAIN Nexus. It will help with the precise and complete definition of data center planning workflow … and be fully integrated with the OBTAIN database.
Every data center has a workflow process: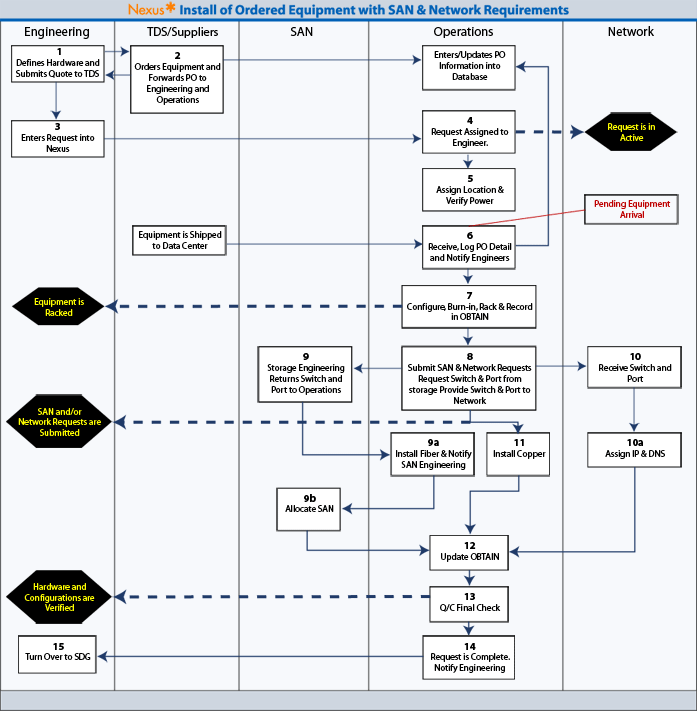 Sometimes it is ill-defined or open to "interpretation" on a case-by-case basis. Sometimes it is only know at a data center in an abstract, conceptual manner. Nexus is designed to tighten the workflow definition and improve the Feedback, Notification and Control. It starts with a simple concept: all change requests begin as vague and incomplete ideas, possibly in a department that doesn't even know what impact their idea will have on the corporate IT infrastructure. But, by the time this vague and incomplete idea is implemented, it has to evolve into a very precise and complete definition of exactly what needs to be done, by whom, when and in what order. The more complex the data center environment, more intense the need for precision and completeness.
We show this transition conceptually in the next 2 diagrams: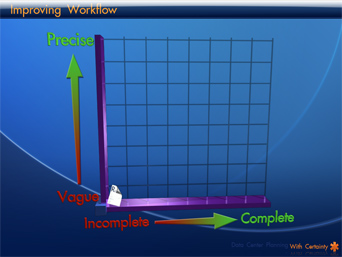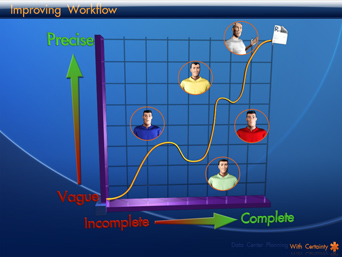 Last Request "diagram" at the end or precise and
complete stage

Request "diagram" at the start of the vague and
incomplete process

Along the way, each vague and incomplete Request is transformed by many people in several different departments until it is precise and complete enough to be executed. Unfortunately this transition is often "a difficult birth" as our German friends like to say.
Nexus is designed to lessen the pain and improve the results.
If you are interested in participating in an OBTAIN Web Seminar, contact us at support@obtain.com.