Location View
Features
Integration
Floor Assets
Brochures

Location View is a modular product of OBTAIN that allows users to create CAD-like drawings to document the placement of devices on their Data Center floor. Bring all groups together in the planning process with Location View. Optimize the design of your cabling conveyances, fire suppression systems, airflow ventilation and device placement with ease in Location View. With drill down functionality, anyone can take a device on the floor and view the assets in rack view and display the logical and physical pathways instantly.
Get environmental property details such as heat, air, power and weight with a click. Location View drawings are fully integrated with the OBTAIN database which gives you greater control and better, faster planning.

Multi-user Access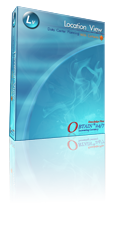 Extend user functionality with Location View on a larger scale. Enable multiple users to design layouts without the need of purchasing several copies of CAD programs.
Highlighters
Vastly improve power planning with Highlighters. Highlighters are a custom definable color coding system for device racks which can give visual indicators of heat dissipation, power consumption, power rating and power start-up.
Custom Symbols
Enhance the look of symbols for your Data Center floor. Location View provides a great starting point for your asset symbols, but gives you the ability to create custom defined symbols to suit your needs more accurately.
Custom Coordinate System
Document device location with certainty! With its intuitive design you can create custom coordinate system for multiple areas of your floor instantly.
Power Bus Bars
Take advantage of the latest power connectivity system for Data Centers. Once a Power Bus Bar has been created in Power Manager you can lay it out in Location View and display your power connections.

Location View Integration
Since Location View is so tightly integrated with the OBTAIN database, it will allow users to greatly enhance their Data Center Planning process. Device assets created in OBTAIN can easily be placed on the Location View Floor plan which will create a dynamic link with the OBTAIN database. When moving a device to another floor or a different section, OBTAINs dynamic linkage will automatically update all instances of that Asset to reflect its new status. There's no need to manually update your CAD Drawings, Spreadsheet and pathway diagrams any more, OBTAIN does this all for you.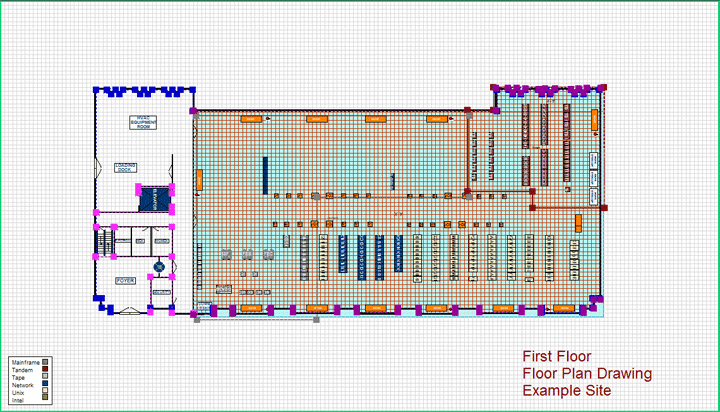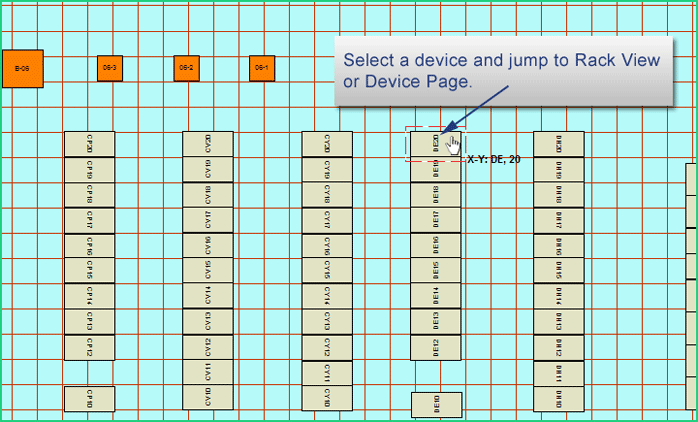 Location View gives the user a nice visual way to quickly jump to their Assets with little effort and no worries. It's as simple as right clicking on the Asset and choosing the Jump menu item to instantly view the Asset in Rack View or Device Page. After making the jump you can drilldown to the device and follow its unique physical or logical pathways instantaneously.

Customize your Data Center floor plan in Location View, without worrying about connectivity updates- OBTAIN does it for you.
Floor Assets
Define your Data Center floor plan with intelligence from the OBTAIN Database. Location View provides several predefined options, plus lets you customize your own unique symbols which can be kept in a library for future use. Associating these symbols with Device Assets from the OBTAIN Database is easy. Once they are linked, any changes in the asset's location will automatically update the reciprocal OBTAIN Device Asset. Location View provides many CAD like options without needing the extensive CAD knowledge or hefty price tag. Creating partitions, doors, windows, raised floors and sub areas proves simple and less labor intensive when compared to other CAD programs. As a time saver, Assets that already have their locations assigned in OBTAIN can easily be placed in Location View automatically with a button click.
Here are some of the Assets that can be documented in Location View.
Placed Assets
Generic Symbols
Devices
Racks
Device Frames
Trunk/Harnesses
Rack Mounted Panels
PDUs
Auxiliary Panels
Power Bus Bars
Conveyances
Documentation Assets
Note Box
Coordinate Box
Date Box
Print Note Box
What separates Location View from other CAD Applications is its ability to link to an extensive and sophisticate data model which minimizes repetitive tasks and improves efficiency.
Location View Brochures